DOLOMITE SPRINT
—
Fast-packing in the Italian Mountains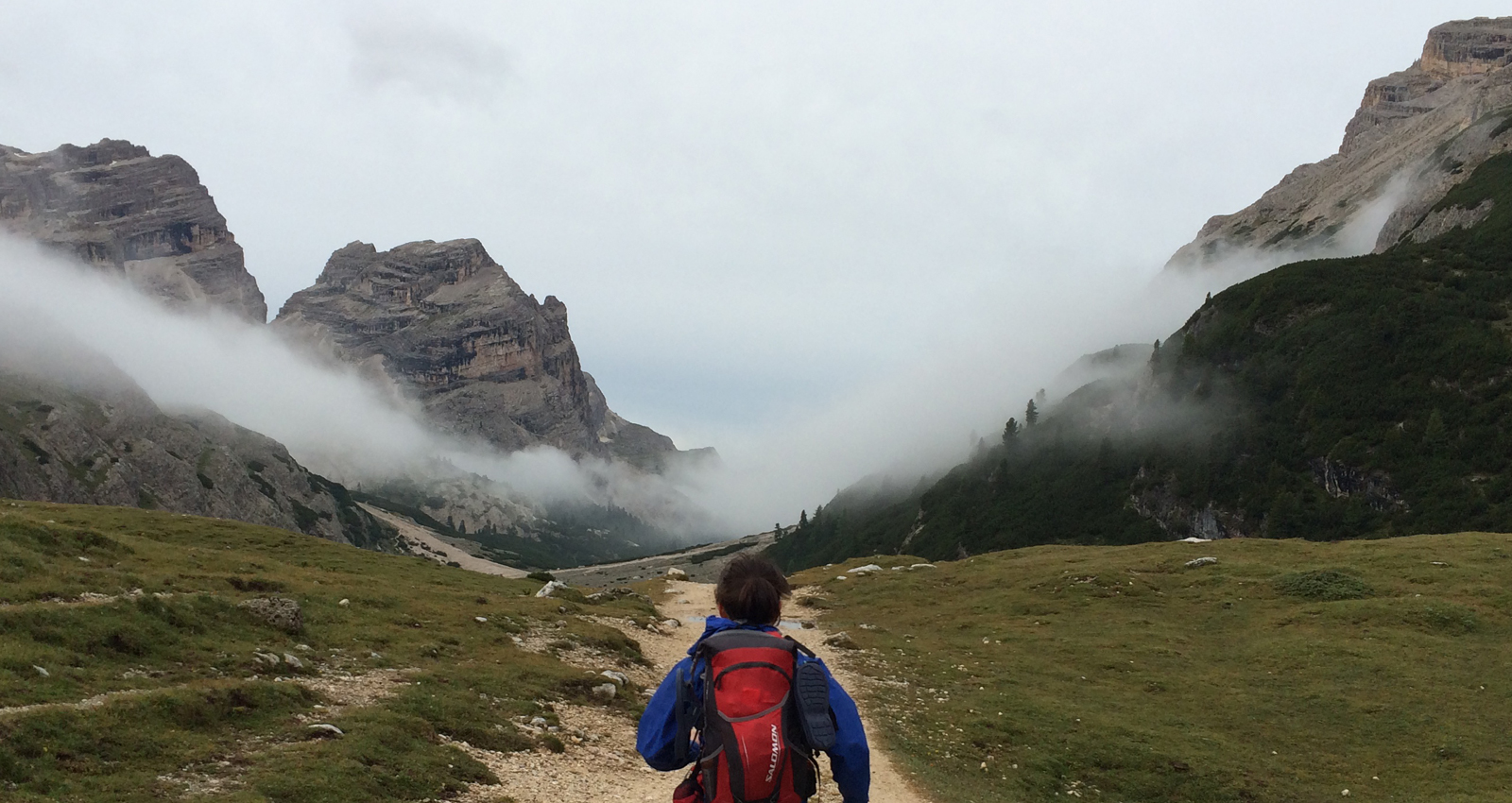 Words and Photographs: Lily Dyu
 
By candlelight we ate pasta, venison, wild mushrooms, grilled vegetables, polenta with toasted cheese then berry tart for dessert.
"If you're near a thunderstorm and you feel tingling, or your hair standing on end, it could mean you're about to be struck by lightning," said Chris, taking a sip of his beer.
Outside, the evening sky was filled with a flash of blinding white. The brilliance lit up the rocky outline of the Cinque Torri, five limestone towers standing at 2300m, opposite the Scioattoli mountain hut where we sat. The sky returned to purple-black and rain lashed the panes as a deafening clap of thunder reverberated through the valley.
"I read it on the web," he continued. "In open ground you should crouch on your feet, heels touching, head between your knees and try make yourself the smallest target in the area."
"So, those trekking poles sticking out of my pack wouldn't help!" I laughed, sipping my wine.
It was 7pm and we were sat in a cosy, wood-panelled dining room waiting for dinner, poring over maps and famished after a day running mountain trails. Through large windows on three sides of the room, strung with flowery, red curtains, we watched the storm and saw village lights twinkling below in the valley. The heavy, wooden door of the hut swung open and four walkers came in, head to toe in glistening waterproofs, and dripping water onto the floor as they peeled back hoods in relief, discarding sodden backpacks. We were lucky to have avoided the storm that had built up that afternoon, with just a drenching as we'd run on from our lunch stop at Rifugio Lagazuoi. Suddenly, the sky flared brightly with sheet lightning and the lights in the room went out, with a gasp from those inside.
"Wow - did we bring our head torches down to dinner?" I laughed nervously. It seemed only moments later, that behind us, the kitchen sprung into life, accompanied by the splutter and throb of a generator. Within minutes, the diminutive, pretty Italian hut owner was at each table lighting candles, while her husband resumed cooking.
Miraculously, over the next two hours they served guests a three-course Italian dinner, while the storm raged outside. By candlelight we ate pasta, venison, wild mushrooms, grilled vegetables, polenta with toasted cheese then berry tart for dessert. We finished with two plum grappas, toasting our day on the trails, then trod carefully through dark corridors to our pitch black dormitory, to the deep sleep of happy runners. It was the end of our second day of a four-day fastpacking trip in the Dolomites, on the Alta Via 1 hiking route. Fastpacking is a fusion of backpacking and mountain running, where you travel fast and light on foot, with minimal gear, on multi-day routes. It can be unsupported, carrying your own lightweight camping equipment and food, or supported, like our trip, where running between mountain huts meant we only needed to carry essential gear. Carrying smaller packs means that you can move more quickly through mountainous terrain, cover more ground and see more in a day than if just hiking.
The Dolomites makes the perfect fastpacking destination, with superb scenery, well-marked trails and frequent mountain huts, allowing us to run carrying less than 7kg each. Our gear comprised spare running kit, lightweight down jackets, full waterproofs, a change of clothes for the hut, trekking poles, headtorches, a few toiletries and sometimes a packed lunch bought from a hut. These huts are usually more than just hostels, with comfortable beds, multi-course Italian meals, bars, proper Italian coffee, showers and drying facilities. They let you travel light and live well, costing typically 50 Euros a night for half-board, for a bed in a dormitory or twin room. Rifugio Scoiattoli even had a hot tub outside, but we weren't looking for a closer view of the storm that night!
Public transport runs like clockwork and brought us initially from Venice airport to the mountain town of Cortina where we spent a day before starting. Here, we took in a trail run to ride a gondola up nearby Monte Cristallo, 3,000m, from where we watched climbers moving swiftly along a jagged ridge, harnessed and clipped onto the via ferrata, as black choughs cried out from the rock. Back in town we felt conspicuously scruffy, dressed in running gear, dining next to stylish Italian families.
From Cortina, we took a bus to the trailhead at the emerald green Lago di Braies, where a grand hotel stood by the still, glacial lake. Through forests of dwarf mountain pine and bilberry, swathed in mist, a stiff climb led us through rain cloud, to a grey, rock-strewn pass, where we entered the lunar landscape of the so-called 'Forno', or oven, a heat trap on a hot summer's day. From there we dropped into a wide valley with a lonely mountain refuge, where we warmed up on soup and coffee before a flowing, fun descent down to a river. We climbed the steep edge of a glacial moraine to join forest paths, which led us by late afternoon to the sprawling Rifugio Fanes. Inside we were surprised to find a lively atmosphere, bordering on boisterous, with locals who had driven up from a nearby town for an overnight stay.
The next day we climbed to a notch between two towering peaks, the pass of Forcella del Lago, and through mist heard the rumble of falling rock leading our gaze up to a group of chamois goats perched high on the scree. From the pass, the route down was a stomach-dropping gully to the jade-coloured Lago di Laguzoi. We were thankful for a wildly zig-zagging path, reinforced with sweet-scented pine timbers, clinging to the precipitous slopes. From the lake it was an unending climb through Martian-like terrain to Rifugio Laguzoi where you can explore deep mountain tunnels used by soldiers in World War 1. The area has a fascinating history, forming the frontline between Austrian and Italian troops during the war and, as we saw in Cortina, many people now climb recreationally on the via ferrata routes constructed for the soldiers.
Throughout our journey we were amazed at the rich flora and wildlife, and descending from Laguzoi we passed close to a fat, cat-sized grey-brown marmot stood on a rocky outcrop, whistling to warn of our approach. Climbing through woodland to Rifugio Scioatolli we heard birdsong and woodpeckers and saw a profusion of beautiful alpine flowers path-side. Red-pink alpenrose made the hillsides blush, and deep blue trumpet gentians burst through the grass while we hunted for elusive milky-white edelweiss.
The fantastic trails included flowing singletrack that we cruised along and plenty of walking when a big climb, or a more technical descent, slowed things down.
Over four days, we were immersed in the mountains, running beneath sheer faces of gold and rust, shrouded in cloud - cathedrals where climbers worshipped and sometimes perished. Passing through prehistoric landscapes of silver-grey limestone we half expected dinosaurs to appear. The fantastic trails included flowing singletrack that we cruised along and plenty of walking when a big climb, or a more technical descent, slowed things down. Alta Via 1 is 120km and usually a 12-day hike, but during our short break we covered 90km with over 5,000m of climb, generally doubling the daily walking distances from our Cicerone guidebook. Although it was towards the end of the hiking season some of the huts were also busy with alpine climbers, so booking accommodation ahead of a trip here is wise.
Weather in September is usually settled, but we had everything - sun, rain, thunderstorms, and the morning after the power cut we woke to a dusting of snow. Yet later that same day we were running in bright sunshine that made our limestone surroundings emit a fierce glare. A stiff climb past dairy herds and alpine meadows took us to Rifugio Coldai, nestling on a mountain pass at 2,100m. On the way up we passed the pulley system, like a mini chairlift that hauled food from the valley floor to the hut. That evening as we ate, the sunset lit the panorama of Pelmo peaks like fairytale castles, glowing orange-pink.
Rifugio Coldai had been full of 'proper' mountaineers and the next night, at Rifugio Vazoller, we were recognised by a group of three Belgians, brothers in their sixties, who had also stayed there. They meet each year to climb in the Dolomites, where their Italian father had grown up. Generously introducing us to the local pine and cumin grappa (an acquired taste), they shared stories of how their father, an Italian translator and prisoner of war, fell in love with their mother, a German nurse, when he was translating for Italian patients in the prison camp. Against her family's wishes they married after the war and moved to his family's farm in a remote Dolomite valley. The couple eventually settled in Belgium, where the brothers grew up, but they retained a deep love and connection to their Italian roots and the mountains.
The next morning we ran down to the valley, to Listolade, from where we would take a bus and train to Venice. On the outskirts of the village were names daubed onto tarmac, Tour de France-style, and white paint markings on the road, signifying a race start line. Speaking to a café owner as we waited for the bus, we learned that the village was the start of a mountain running race, the Transcivetta, a brutal 24km run that takes 1,000 runners up past Rifugio Vazzoler, through the Val Civetta, to Rifugio Tissi and then Rifugio Coldai before descending to Piani di Pezze, where we had started our final climb.
In Venice we recovered a bag of clean clothes from left luggage and ended our trip with a day's culture and sightseeing. Our last night in Italy was spent eating on the Venetian waterfront as the towering QE3 cruise-liner sailed by, her port-holes lit like fairy lights. It seemed surreal that only two nights earlier we had crept into a cramped dormitory with snoring climbers and grappa fumes, but if you love Italian food and moving fast and light through the mountains, then fastpacking in the Dolomites is La Dolce Vita for runners.